News Archive
Season One
· Read the press release.
· Read the transcript of the DVD presentation made at the Gathering 2004.
GARGOYLES SEASON ONE ON DVD (see episode list / see episode guide)
Release Date: December 7, 2004
Run Time: 294 minutes
Region 1 (US and Canada only)
Aspect ratio: 1.33:1 (full-frame) formatted 4x3
Sound: Dolby® Digital 2.0
Rating: Not rated.
Number of discs: 2
Suggested retail price: $29.99
Bonus Features:
The Gathering of the Gargoyles [original documentary filmed at G2004]
Original Show Pitch by Greg Weisman
Audio commentary by Greg Weisman, Frank Paur, and Keith David on episodes 1-5
Fan Preorder Date Set For December 7th
· Why are fans coordinating their orders?
September 16, 2004
From Ask Greg at Station Eight:
IMPORTANT ANNOUNCEMENT ABOUT THE DVD
Gang,
I just talked to the folks at Buena Vista Home Entertainment.
I asked them what was the best date for us to MASS ORDER/PURCHASE the 1st Season Gargoyles Series DVD.
My contact was unequivocal in his response.
TUESDAY, DECEMBER 7th, 2004.
Yep, that's right the day of the release. I guess anything earlier is nice but winds up being too early to be useful. But day and date with the release is exactly what we need.
In the meantime, BV encourages ALL OF YOU to go to Amazon and rave in the comments/reviews section. Leading up to Dec 7, the more good buzz on Amazon's site the better.
(Remember this is the make or break event in the fandom. It's time to prove to Disney once and for all that we have the bodies and the dollars and the fanbase and the communications skills to support more Gargoyles product -- both merchandise and creative. If we can't prove it with this DVD release... well, we're not likely to get another chance.)
So spread the word. SPREAD THE WORD!!!!!!!!
The DVD is coming out December 7th. And we'd like EVERYBODY to ORDER/PURCHASE it on THAT DAY!!!!!!!!!
Cover Art Revealed
September 27th, 2004
From Animated-News.com (thanks to Phil who posted at Station Eight)
Animated-News reports that the following ad appeared in VB magazine, offering us our first view of the cover art for the Gargoyles DVD.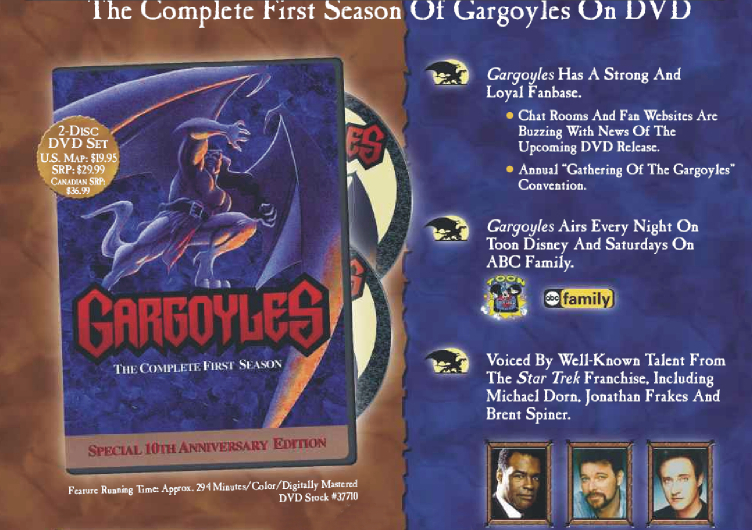 Revised Cover Art Released
October 12th, 2004
From TVShowsOnDVD.com
TVShowsOnDVD.com reports that the cover art revealed last month has been altered somewhat. Several sites, including Amazon, now show the updated graphic.
<![if !vml]>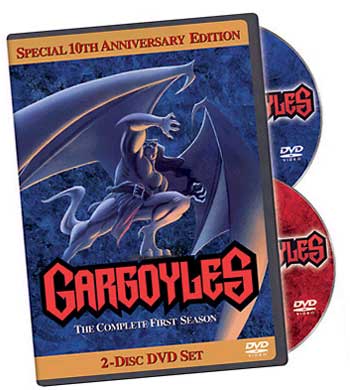 <![endif]>